The Tarot of Jean Noblet
originals (Paris c. 1650) preserved in the French National Library and restoration

Here is what the French National Library has to say about the only remaining Noblet deck :
Tarot, jeu et magie
Bibliothèque Nationale, Paris 1984
35
Tarot Noblet
Jean Noblet
Paris, mid 17th century
73 cards (out of 78), enseignes italiennes
engraved on wood, stencil colored
multi-layered paper
92 x 55 mm
back : hexagonal motifs « Maltese cross »
marks :
l. NOBLET.AV FAV/BOVR ST GERMAIN (2 of Cups)
IEAN NOBLET DMT / A V FA VBOVR ST GERMAIN (2 of Coins)
I.N. (shield on the Chariot)
nomenclature IPCS : IT-I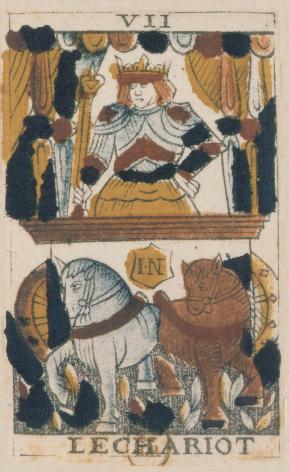 The unusually small size of this tarot is part of its charm, even if it lacks 5 cards (from the 6 to 10 of Swords). Its maker has clearly identified himself on the banner of the 2 of Coins and on the cartouche of the 2 of Cups: that is, Jean Noblet, master card-maker, residing in Paris at Faubourg Saint-Germain. At the same time, a Jean Noblet, master card-maker said to live at « Saint-Germain-des-Prés, rue Sainte Marguerite, in the parish of Saint-Sulpice » is cited in two notarial acts of 1659 (A.N., Y 197, n°s 3161 et 3162). Already D'Allemagne mentioned a Jean Noblet in a 1664 list of Parisian card-makers (D'Allemagne, l, 309).
It is curious that this great scholar insisted on situating these cards in the 18th century, a period which shows no trace of Jean Noblet.
We do not hesitate, therefore, to place this deck in the middle of the 17th century, and thus make it a contemporary of the Jacques Viéville tarot. The interesting fact of such a datation is that we find ourselves in the presence of a deck which conforms in all ways to the model known as the « Tarot of Marseille » : and is the very first known example.
We note that Death is named. The Chariot's shield bears the initials I.N., probably those of Jean Noblet. The back of the cards exactly conforms to the design employed by Viéville. The same motif occurs on the back of the Anonyme Parisien tarot (cat. n° 33).

Paris, B.N., Estampes, Kh 34 rés., t. l. Bibl. : D'Allemagne, II, 78 et 619; BN 63 n° 360: Dummett. 211