Whatever the much-disputed origins of the tarot might be, the historic "tarots de Marseille" were all realised by master tarot card-makers trained by the Compagnons du Devoir. Was the so-called "Marseille model" established in the 15th or 16th century, or had it been constituted as early as 1375? We don't know, and can leave the question to the historians. The legendary founder of the Compagnons is Maître Jacques, and since the most ancient times craftsmen travelled the "path of stars", later known as the Path to Saint-Jacques de Compostelle. On the way they were given professional and spiritual instruction by elder compagnons, each an adept in his field.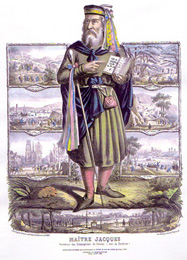 The following pages deal with the legend of the Path. In preparing them I was especially assisted by Louis Charpentier's book "Les Jacques et le mystère de Compostelle"
(from the collection: les énigmes de l'univers, Robert Laffont, 1971).
But first, here is a magic square, enigma of unknown origin, which was all the rage during the Renaissance.
What it might mean as puzzled people for centuries.
S A T O R
A R E P O
T E N E T
O P E R A
R O T A S
Here is one hypothesis, from Bougearel's book on the origins and history of the tarot:
The savior (SATOR: the sower)
On his cross (AREPO: the plow is sometimes a symbol of the cross)
is master (TENET)
through his sacrifice (OPERA)
of destiny (ROTAS: the wheels alluding to destiny)
Additional interpretations are welcome.