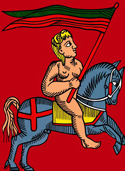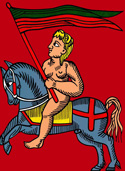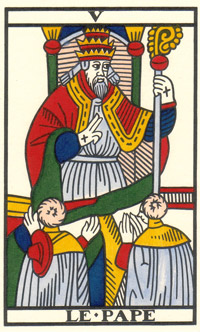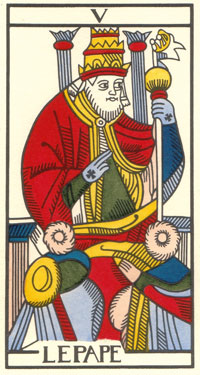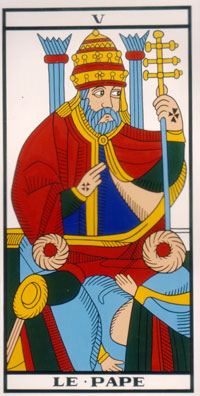 Nicolas Conver
Marseille c. 1760
After training the body and developing physical strength, the time has come for the young man to listen to his grandfather. Now appears the arcanum of the Pope. He embodies new qualities : wisdom, inner awareness, knowledge of vanished worlds, benediction. Air is his element.
The two small figures in the lower foreground resemble pilgrims come to ask for advice and instruction concerning their inner world. They also evoke the grandchildren who crowd around when their grandfather recounts his tales and memories. The Pope personifies churchmen, teachers, doctors : all who care for the soul and the body. In our time, one would also include therapists, yogis, university instructors, artists, etc…
Like the three preceding models, the Pope represents a precise social ca?dtegory and function. But he does not hold a monopoly on spiritual capacity : whatever the archetype, each holds an equal potential for spiritual advancement. When these four stages have been passed, when the teachings of these four models has been assimilated, the child is ready to fly on his own wings. Adolescence has arrived.
Only one initiation remains, the most powerful of all…